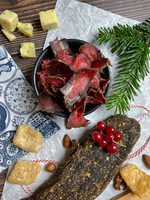 HOW WE MAKE BILTONG
Like our fancy friend, Mr Parma ham, biltong is also a cured meat although, most commonly made from beef or game.
Biltong is traditionally a South African air-dried beef snack but the earliest forms of biltong show traces back to the early Dutch settlers.
We make our biltong with premium beef, a careful selection of spices and a slow marination process, which allows the meat to absorb heaps of flavour before the drying process begins.
The slabs of meat are dried at a cool temperature, so to slowly develop a unique flavour, soft texture and without losing nutritional value.
SHOP BILTONG
The best meat snack

For any occasion
Real food. Lasting energy.

High protein snacks for outdoor activities and endurance sports
Real food. Lasting energy.
High protein snacks for outdoor activities and endurance sports
SHOP BILTONG