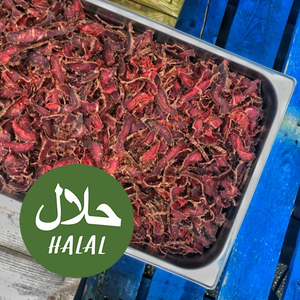 ESTIMATED DELIVERY TIMES

Netherlands 2-4 working days

Belgium 2-4 working days

Germany 2-4 working days

France 3-5 working days

Rest of Europe 5-10 working days
150g of sliced Halal biltong per bag.
Our beef comes from Dutch soil and is slaughtered Halal. We have a completely separate production line for our Halal biltong, using its own equipment from start to finish. 
Flavour profile original: Spiced with aromatic spices like roasted coriander seed, crushed black pepper, a hint of clove, and sea salt. 
100% Dutch Beef. Traditional South African flavour.
High protein. No added sugar. No MSG. 
Salted, spiced, marinated and gently air-dried to eating perfection. 
Ingredients: Beef, salt, pepper, spices, vinegar, Worcestershire sauce (GF) Raisin juice.
Allergens: May contain traces of nuts. Mustard seeds.
Nutritional info per 100g: Energy 286kcal (1196kJ). Protein 54g. Fat 7.1g, of which saturated 3.2g. Salt 1.6g. Carbohydrates <0.6g, of which sugars <0.6g
Runder Biltong is a fresh and perishable product. It requires correct handling methods to prevent the product from becoming mouldy. Store in a cool dry place, out of direct sunlight and away from any heat. Keeping it in a closed container will likely develop some humidity and it may spoil.
We would love to know what you think of our products, please leave us a review below. We do not moderate our reviews.