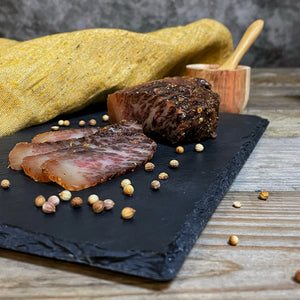 ESTIMATED DELIVERY TIMES

Netherlands 2-4 working days

Belgium 2-4 working days

Germany 2-4 working days

France 3-5 working days

Rest of Europe 5-10 working days
+/- 200g of biltong per slab.

We make this absolute biltong indulgence with a traditional South African-style spice mix and only use Japanese A5 Wagyu meat. Quite simply this is for the curious meat fanatics.

Flavour profile: Rich. Spiced with aromatic spices like roasted coriander seed, crushed black pepper, a hint of clove, and sea salt. 
This Wagyu biltong is delicate and soft due to the marbling in the meat. It has a dissolving mouth feel, which can be enjoyed on its own or with a cold beer or good glass of your favourite wine. Best served by thinly slicing and enjoying a few pieces at a time.  
Ingredients: Beef, coriander, salt, sodium nitrite, pepper, spices, vinegar, Worcestershire sauce.
Everyone enjoys biltong in their own way. With a whole piece of biltong, you can eat it just the way you like.
Some people prefer a wafer-thin slice while others like their cuts more thick and chunky.
Allergens: May contain traces of nuts, fish, gluten and mustard seeds.
Wagyu Biltong is totally awesome
A treat for the discerning meat lover, the Wagyu must be tried to be believed. Incredible flavor and so soft! This is my favourite!
This is what perfection taste like...
This is what perfection tastes like, it's a refined taste of delicious Biltong but also very tender. It may seem a bit expensive but it is definitely worth it!! A true treat for the real gourmets!!
Delicious Amazing
Amazing taste. Fans of good meat and especially wagyu. Will not be disappointed!
There is a special place in hell...
For people who do this with wagyu.
I hope I can take a packet of this with me there.
Top quality, top flavour.
Amazing taste! Shared with my friends and they all loved it
It is one of the best meats I've tasted in NL for sure! Finished the whole thing in one sitting with 4 guy friends. Will re-order for sure