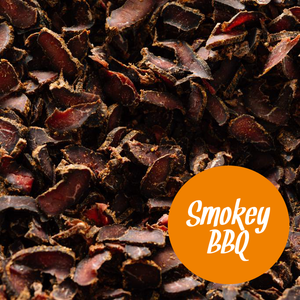 ESTIMATED DELIVERY TIMES

Netherlands 2-4 working days

Belgium 2-4 working days

Germany 2-4 working days

France 3-5 working days

Rest of Europe 5-10 working days
150g of sliced biltong per bag.
High protein. No added sugar. No MSG. 

Salted, spiced, marinated and gently air-dried to eating perfection. 
Ingredients: Beef, salt, pepper, spices, chilli (not hot), vinegar, Worcestershire sauce (GF), Raisin juice.
Allergens: May contain traces of nuts. Mustard seeds.
Runder Biltong is a fresh and perishable product. It requires correct handling methods to prevent the product from becoming mouldy. Store in a cool dry place, out of direct sunlight and away from any heat. Keeping it in a closed container will likely develop some humidity and it may spoil.

We would love to know what you think of our products, please leave us a review below. We do not moderate our reviews.
THE BEST!!
nothing more other than that :-)
Makkelijk voor onderweg
I love the taste and the chewiness!
Leaves you wanting for more!
2nd chance, good batch this time! A somewhat mild BBQ taste yet enough flavor to distinguish it from the original. I didn't find it really Smokey though. Overall very nice and leaves you wanting for more.