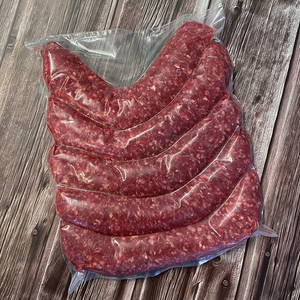 This product requires cooled shipping. Only available in The Netherlands. 
+/- 750g per bag. (5 x 150g sausages)
Thicks-style beef boerewors sausages. Perfect for a boerewors roll. 
100% beef, coarsely ground, infused with nutmeg, clove, salt, and pepper and encased in natural hog casings.
Allergies. May contain traces of gluten and nuts.
Boerewors, the Afrikaans word for 'Farmers sausage' is a traditional South African sausage that is typically (and best) cooked, over the flames, on a Braai. The wors is flavoured with sea salt, cracked pepper and heaps of coriander which give it that unmistakable Boerewors flavour. 
Runder Boerewors is a thin style sausage made with 100% beef filling and a natural sheep casing, which keeps the meat in its sausage form. 
There are no artificial ingredients in this product. No sugar, no fillers, no wheat or cereals. Simply put, our Boerewors is a specific ratio of beef meat to beef fat, salt, pepper and spices. 
We would love to know what you think of our products. 
Please leave us a review below. We do not moderate reviews.